Original play 'Black Blue & Invisible' to cap Randolph Reads
Stories of those who feel invisible in our community will inform Black Blue & Invisible, an original play created for Randolph Reads: Invisible Man by actor/playwright Mike Wiley.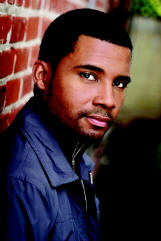 The show, sponsored by the City of Asheboro, will take the stage at 7:30 p.m. Saturday, September 27 and 3 p.m. Sunday, September 28, at the Sunset Theatre. The production is free and the public is invited.
Black Blue & Invisible interweaves three elements: Chip Womick's interviews for his Courier-Tribune series on invisibility; Wiley's own personal narrative; and parts of another play, Sketches of a Man by Dr. Kashif Powell, which explores Ellison's work.
Wiley says Black, Blue & Invisible proceeds from Ellison's question, "Why am I so black and blue?" He calls the play a thoughtful investigation of what shared experiences evoke the feeling of invisibility.
"Black Blue & Invisible is a look back and a look ahead," Wiley says. "Where have we come from as a society and how much further do we have to go to understand the multitude of cultures that walk beside us today?"
Wiley will be joined in the production by Powell, a post-doctoral performance studies student at Northwestern University; Aya "Hope" Shabu, a professional dancer, choreographer, teaching artist and arts administrator living in Durham; and Rasool Jahan, an actress with many stage, film and TV credits including Puck in Midsummer Night's Dream, Rebecca in Cold Mountain, Deb in I Know What You Did Last Summer, Veda Scott in Freedom Song and a recurring role on One Tree Hill.
Wiley holds a masters in fine arts from UNC-Chapel Hill. He has created several of one-man shows including The Parchman Hour, about the Freedom Riders, and A Game Apart, about Jackie Robinson.
In DAR HE, his play about Emmett Till, he performs more than 30 characters. A film version of the play garnered major film and acting awards at numerous festivals, including Best Actor at the Harlem International Film Festival.